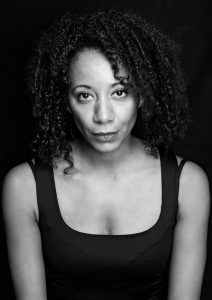 Sandra Mavhima is choreographer, teacher and artistic director. She has graduated from the National Ballet School "Floria Capsali", Bucharest in 2003. After graduating she worked as a dancer for the National Theater of Operetta and Musical "I. Dacian", Bucharest Metropolitan Circus, Orion Ballet.
       Over the years she has performed in more than 30 dance performances (ballet, musical, theater, circus, contemporary dance) next to dancing in projects for advertising events, television shows and commercials.
In 2007 she obtained a degree in arts (choreography) at the National University of Theater and Cinematography "I. L. Caragiale" (UNATC), in 2010 the Master in Performing Arts, within the same university. In 2014 she graduated from the National University of Arts Bucharest, Faculty of Art Theory and History and in 2018 she obtained a PhD in Cinematography and Media based on the research study "Choreographic Language in Experimental Film" (UNATC).
She started her career as a choreographer in 2008. Since 2011 has been working as a cultural manager for Asociația Secția de Coregrafie.  Between 2014 – 2017 was the Artistic director of "ALT National Choreography Competition"
Her activity has been and it is supported by French Institute Bucharest, Romanian Cultural Institute,  Cervantes Institute, Municipality Cultural Center of Bucharest – ArCub, National Dance Center Bucharest, Nottara Theater, Bulandra Theater, Mic Theater, National Museum of Contemporary Art, Center National Choreographique d'Orleans, Panta Rei Dance Theater Norway, etc. 
Her performances have been presented in major events and festivals in Romania, Spain, France, Lebanon, Thailand. The dance film "Collective Identity" was selected by Essential Dance Film – TenduTv (USA) for the collection of 2012's most representative dance films in the world.
She started teaching in 2007, within the Ballet School "Floria Capsali" and UNATC.  The pedagogical results were recognized by the Ministry of Education with Diploma of Excellence for the achievements in the field of education and the position of excellence in the gallery of Olympians of the Romanian school.
  Currently she is Assistant Professor at the "George Enescu" National University of Arts, Iași and collaborating choreographer for Sibiu Ballet Theater.