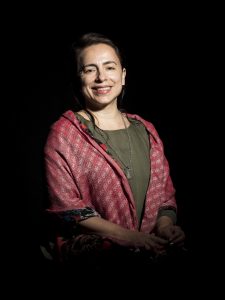 Born in Cuba in 1971, she is the Director of the renowned dance school Conservatório Internacional de Ballet e Dança Annarella Sánchez, from Leiria, Portugal.
Graduated from the Cuban School of Ballet in Camaguey, Cuba, and specialist in Classical Ballet by the Superior Institute of Art in Cuba, with her diploma recognised by the Superior School of Dance of Lisbon, Portugal, she stands out as a pedagogue in Ballet teaching for children from 6 to 14 years of age.
Following the rigorous ballet practices, of the National Ballet of Cuba, and many hours of dedication to this art, she has got young dancers not only from Leiria (Portugal) but also from all around the world to succeed and to get top places and top prizes in the most prestigious international ballet competitions such as the Youth America Grand Prix, the South Africa International Ballet Competition, the Varna International Ballet Competition, the Beijing International Ballet and Choreography Competition and the Prix de Lausanne. In addition, her students are regularly invited to participate in Galas and Dance Festivals, sharing the stage with Professional Dancers in different countries such as Spain, Italy, France, Mexico, United States, Cuba, Germany, Romania, Panama.