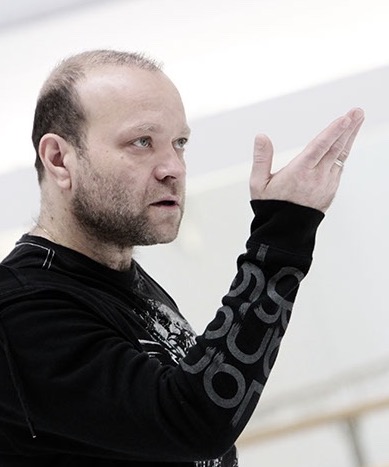 Born in St. – Petersburg. He completed his ballet training at the Vaganova Ballet Academy and was immediately engaged by the Kirov (Mariinsky) Ballet, where he advanced to the position of principal dancer. Even here, the western press began to take notice of the outstanding dancer.
His repertoire at the Kirov included all the major ballets: "Swan Lake", "The Nutcracker", "Giselle", "Le Corsaire", "Sleeping Beauty", "Les Sylphides", "La Sylphide", "Theme and Variations". His partners included such international stars as Ekaterina Maximova, Eva Evdokimova , Evelyn Hart, Aurélie Dupont and Lucia Lacarra.
Kirill Melnikov was frequent guest on international stages and appeared at Gala Performances in Canada ("Le Don des Étoiles"), Italy, Spain, London (Alicia Markova Gala), Virginia (Margot Fonteyn Gala), Hamburg (Nijinsky Gala), Budapest, Brussels, Nagoya, Dresden, Capetown etc.
From1992 untill 2005 Kirill Melnikov was principal dancer with the Bavarian National Ballet in Munich. Here, he was quick to learn the Western repertoire. Today, his roles include Romeo in John Cranko's "Romeo and Juliet" and Onegin in Cranko's ballet of that name, in which he had a major success in New-York. Petruccio in "The Taming of the Shrew" became one of Melnikov's showcase roles.
At the Munich premiere of John Neumeier's "A Midsummer Night's Dream", he took the leading role of Theseus-Oberon. Kirill Melnikov danced the main roles
in new creations of Ray Barra's "Swan Lake" and "Raymonda", Patrice Bart's "La Bayadere", Yuri Vamos's "Shannon Rose", Davide Bombana's "Woyzeck-
Fragmente", "Luigi-Nono-Project" and "Ein Traumspiel".
His repertoire include the works of Balanchine "Symphony in C", "Concerto Barocco", "Four Temperaments", "Brahms-Schoenberg Quartet"; Hans van
Manen "Grosse Fuge", "Déjà vu", "Black Cake"; Twyla Tharp "Brief Fling"; Uwe Scholz "Mozart Piano Concerto"; John Cranko "Legend"; John Neumeier
" The Nutcracker", "The Lady of the Camellias"; Ben Stevenson "Cinderella", "Romeo and Juliet"; A.Gorsky "Don Quixote"; Mikhail Fokin "Le Spectre de la
Rose"; Maurice Bejart "Notre Faust", "Le Soldat Amoureux" ; Leonid Lavrovsky " Walpurgis Night " ; Jerome Robbins " In the Night "; Jiri Kylian "Les Nuages" etc.
Since 1998, he is ballet-teacher in University of Music and Performing Arts in Munich. In 2002 become Professor. In the same University in 2000 he received the
diploma as ballet pedagogue (class Prof. A.Prokofiev).
In 2002, Kirill Melnikov has received "Mercury – prize" as one of the best artist of the year in Munich. Video recordings with the Kirov-Ballet include "White Nights in St.-Petersburg" and "Classic Kirov". "Black Cake" with the Bavarian State Ballet. From 2003 untill 2005, Kirill Melnikov was Artistic Director of "The Russian Fairytale Ballet Productions" company. His production, "The tale of Tsar Saltan and The Enchanted Swan" ( by Alexander Pushkin), had its world premiere in Munich in December 2003 where it received standing ovations and critical acclaim. He also took the leading role in this premiere. This ballet was successfully performed in Dublin in March 2005.
Already during his active time as a dancer Kirill Melnikov has choreographed several pieces for the annual festival "Toujours Mozart" in Salzburg, in the Japanese dance project "Strange stories" which had première in September, 2005 in Munich.
In 2007 in Munich he has choreographed for the opera "Stumme Serenade".
In February 2008 his students have won "gold, silver and bronze" in a ballet competition "TANZOLYMP" in Berlin.
2008 – premiere of his ballet "Cenerentola" in Ingolstadt.
2009, 2012 – his student won "silver" in a ballet competition "TANZOLYMP" in Berlin.
2010 – Artistic Director and Choreographer of the ballet project "Nosferatu & Co." in Munich.
2012 – premiere of his ballet "A Midsummer Night's Dream a la Bavarese" in Munich.
2014 – choreography for Salonoper-Pasticcio "Wertheriade" in Hanau and Eisenstadt (Austria)
2015 – Ballet "Gradus ad Parnassum" in Prinzregententheater in Munich.
2016 – his student won "silver" in a ballet competition "YAGP" in New York.
2017 -his student won a Prize in a ballet competition "Prix de Lausanne".
2017 – Dance Theater Projekt "Kohlenpott-Memories" in Dortmund and Munich.
2018 – choreography of "AIPassioni" in Prinzregententheater in Munich.