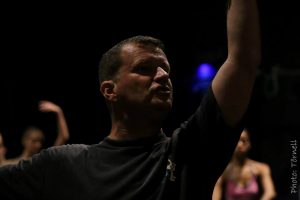 Born in Bucharest on 03/05/1964, he studied classical dance (Vaganova method) at the Choreographic High School in Bucharest under the guidance of masters Stefan Banica, Costantin Marinescu and Gheorghe Iancu.
After graduation, he was hired by the Bucharest National Opera where at the age of nineteen he debuted in the role of "Franz" of the ballet "Coppelia". Over the years she has covered the first roles in the classical repertoire: "Paquita", "Sleeping Beauty", "Nutcracker", "Cinderella", "Don Quixote" (Basilio & Espado), "The Corsair", "La Esmeralda ","La Bayadere","La Fille Mal Gardee"," Carmen Suite","The Swan Lake","Romeo and Juliet "and other roles in contemporary ballets such as:"Sacre du Printemps"," Carnival in Venice", "The Afternoon of a Wildlife" etc.
Finalist at the 1987 Osaka International Competition, he won the special prize "For the best couple" at the 1990 Varna International Competition together with his partner Alma Munteanu. You enrich your artistic experience by dancing as a soloist in the Soviet Union, Hungary, Germany, Belgium, the Netherlands, Luxembourg, Austria, Switzerland, Israel, Yugoslavia, Japan, South Korea, Taiwan, Hong Kong, Thailand, Vietnam, Spain, etc.
Lessons follow at the Bolschoi Theater (Yagudin class). For his exceptional artistic merits, in 2004, the President of Romania awarded him the "Order of Cultural Merit" in the rank of Knight. From 1996 I started to create choreographies such as: "Seasons", "Carmen Suite", "Mozartiana", "Notte di Walpurga", "Dafne and Chloe" etc.
He currently teaches ballet, character, repertoire and pas de deux in Italy and Germany.
He created Dance Campus & Contest San Francesco di Paola being the artistic director of this annual event.